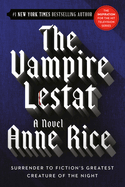 The VAMPIRE LESTAT, Anne O' Brien Rice, c 1985
When I was corrected, I knew an intense happiness because someone…was trying to make me into a good person, one who could learn things… I wanted to be with people who believed I could do good if I wanted to be.
* * *
... the Golden Moment – when everything made sense
* * *
Actors and actresses make magic. They make things happen on the stage. They invent, they create. You make life when you play. You create something from nothing. You make something good happen. And that is blessed to me.
…I am speaking of the character of human beings, not what they believe in. I'm speaking of those who won't accept a useless lie, just because they were born to it. I mean those who would be something better. They work, they sacrifice, they do things…..
There is blessedness in that, there's sanctity. And God or no God, there is goodness in it. I know this the way I know the mountains are out there, that the stars shine.
Now, how could it not have been good, t o give and receive such happiness? We brought to life that town when we put up our play. Magic, I tell you. It could heal the sick, it could.
* * *
The sky was never the same shade of blue again. I mean the world looked different forever after, and even in moments of exquisite happiness, there was the darkness lurking, the sense of our frailty and hopelessness.
* * *
You can't do anything but try to get what you want… All you can do is make your life have meaning, make it good – God, if you could only believe in it, that we do good when we make others forget their sorrow …..
* * *
I believe our work at Renaud's was in many ways finer tan what I saw at the grand theaters. Only the framework was less impressive. Why couldn't a bourgeois gentleman forget about the frame? how could he be made to look at something other than the surface?
* * *
You have a radiance in you, Lestat, and it draws everyone to you. It's there even when you are angry, or discouraged… You have a light in you that is almost blinding. but in me there's only darkness… I try to keep the darkness from you because I need your light. I need it desperately, but you don't need the darkness.
* * *
You are the mad one. If you could see yourself, hear your own voice, your music, you wouldn't see darkness… You'd see an illumination that is all your own. somber, yes, but light and beauty come together in you in a thousand different patterns.
* * *
Not like this; we can't part. We can't leave each other in hatred.
* * *
I want to know… why beauty exists, why nature continues to contrive it, & what is the link between the life of a lightning storm with the feelings these things inspire in us? If God does not exist, if these things are not unified into one metaphorical system, then why do they retain for us such symbolic power?
* * *
It seemed the great lessons of my life had all been learned through the renunciation of fear. Fear was once again breaking the shell around me so that something else could spring to life.
* * *
Better they should run from me than not see me. Better they should know I was something monstrous than for me to glide through the world unrecognized
* * *
You have to suffer through this emptiness. And find what impels you to continue.
* * *
She could not give me what I wanted of her. There was nothing I could do to make here what she would not be.
* * *
Thoughts are imprecise… Speech is the greatest gift mortals and immortals share.
human gestures are elegant. There is wisdom in the flesh… A singer can shatter a glass with the proper high note but the simplest way for anyone to break a glass is simply to drop it to the floor.

* * *
Very few beings seek knowledge in this world…., few really ask. On the contrary, they try to wring from the unknown the answers they have already shaped in their own minds – justifications, confirmations, forms of consolation without which they can't go on. To really ask is to open the door to the whirlwind. The answer may annihilate the question and the questioner.
* * *
You have few preconceptions…. you admit to such extraordinary simplicity. You want a purpose. You want love.
* * *
To be godless is probably the first step to innocence, to lose the sense of sin and subordination, the false grief for things supposed to be lost. [innocence]… an absence of the need for illusions. A love of and respect for what is right before your eyes.
* * *
… the human imagination is a secret place of primitive memories and unconfessed desires
* * *
in a real way, ETERNITY is merely the living of one human lifetime after another
* * *
I can tell you stories forever, but they are no substitutes for life… I can't teach what one lifetime can teach
* * *
The truth is most women are weak, be they mortal or immortal. But when they are strong, they are absolutely unpredictable.
* * *
Choose your companions with care. Choose them because you like to look at them & you like the sound of their voice, and they have profound secrets in them that you wish to borrow. Otherwise you will not be able to bear their company for very long.
* * *
I can't deceive you. I can't love you. What are you to me that I should love you? A dead thing that hungers for the power and the passion of others? The embodiment of thirst itself?
* * *
I had always loved him, hadn't I, no matter what happened, & how strong could love grow if you had eternity to nourish it, and it took only these few moments in time to renew it's momentum, it's heat?
#